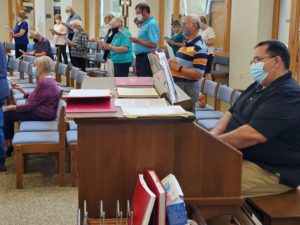 The Worship and Music Committee meets monthly to oversee all aspects of our worship life. Our active music ministry includes choir, instrumentalists, and chime choir. The choir or soloists often lead the psalm and provide central leadership in hymn singing. At present the choir is singing with masks. Please write to our Minister of Music, Kevin Freaney, if you'd like to be involved!
From our Minister of Music (September 2021):
Here are some things I've been working on having part of music this Fall to look forward to:
Hymn Preludes for Piano and Guitar in a light Jazz and Gospel style
Choir anthems, new and familiar
Sung Choral Benedictions such as Peter Lutkin's "The Lord Bless you and keep you"
Beautiful vocal solos
Songs led by choir that invite the congregation to join along
Singing the Psalms in worship: Intended to be sung, we have Psalm Leaders each week now helping with this very important ministry role.  Thank you to Pastor Raabe for her inspiration to do this.  Both Pastor and I have both spent a lot of time on Psalmody to include and compose music refrains for many of the Psalms we are now singing.
Variety:  Spirituals, Gospel hymns (Old style hymns), Praise Songs, Traditional hymns, hymns that unite us and offer comfort, Heartfelt hymns
Harold Schaeffer and I are coordinating together to share a mix of music for Communion Sundays for Preludes and Communion music.
I hope that each of you are finding worship to be a most prayerful and meaningful experience and that music inspires you to sing along.  I am blessed to be your Minister of Music.
On a special note:  If you're free on November 16th at 12noon…Come listen, I have been invited to play an organ recital at St John UCC Church in Lansdale (500 Main Street, with parking on the street or church parking lot).  I am delighted to have been asked to play as part of a series of concerts sponsored by the American Guild of Organists. The programs are 30 minutes in length and are free and open to the public. 
To God be the Glory,
Kevin