Family Game Night at Grace October 7 from 6-8 p.m.
Coming up on October 7 from 6-8 p.m. we'll enjoy a Family Game Night and Ice Cream Social. Fun for all ages! Bring your favorite board game and ice cream topping, and a side dish. Meatball sandwiches, ice cream and drinks will be provided.
Then on Saturday, October 8 at 12 noon we'll have a Blessing of the Animals service on the veranda overlooking Broad Street. Grab your leashes and cages and bring all your fine furry, scaly, feathery friends for a special blessing and a treat!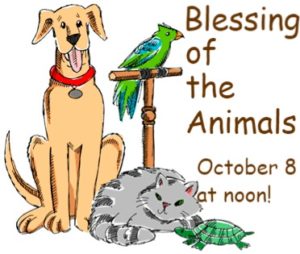 One of the most heartening stories in all scripture is that of the Magi and King Herod from Matthew 2:1-12, the appointed text for the Epiphany of Our Lord on January 6. On this day and the Sundays following, through Transfiguration, we celebrate the in-breaking of God's light into the world in the person of Jesus Christ as a message of radical…
December 10, 2021 We are coming off what I consider to be a banner stretch in our worship life: Holy Communion on five of the last six Sundays. This was good exercise for what I'd like to see become our pattern of sharing the Lord's Supper on a weekly basis. The custom at Grace for years had been communion twice a month,…
by Pastor Nancy Raabe When random violence has its day–in our cities, in our towns, in social media, in our hearts–faith almost always finds itself under attack. Here is what someone wrote on Twitter late on the night of the deadly mayhem that shattered Waukesha, WI Christmas parade on Sunday: "I don't know how anyone can hold onto their faith after a…
We are now livestreaming our 10:30 service! Look on this site under "Online Worship" for the link. If you miss it you can find the service posted on our YouTube page. Just search youtube.com for "gracehatfieldpa."
"So teach us to number our days, that we may apply our hearts to wisdom," we recently sang in church (Psalm 90). This brought to mind the final sermon given by my favorite seminary professor, Rev. Dr. Walter R. Bouman. It was May, 2005. Walt had been diagnosed the previous month with late-stage colon cancer. We knew things were off when, the…
Who is God? What is God? While we can never see God's face, the Hebrew scriptures give us a word that describes an essential part of God's character. That word is hesed (pronounced with a guttural sound at the beginning), which has been called the most important word in the Bible. Hesed appears about 250 times in the Old Testament, half…
The Peace of Christ "The peace of Christ be with you all." "And also with you." We share this greeting in a dialogue every week in worship. What always comes to mind as I hear your response is: "Thank you! I really needed that!" The Greeting of the Peace, as we call it, is a sacred exchange. In our worship it is…
Parents of middle-school age children, I have a question: Where are theyt? I don't mean where are they physically. What I am asking is, where your children are emotionally and spiritually? A recent article in the Philadelphia Inquirer reminded me of how affected our young people continue to be by the stresses of the pandemic. The authors, both mental health professionals, write,…
Over the years, the Hatfield area has been subject to numerous power outages.  These outages have grown more frequent, due in part to the numerous aging trees effected by the weather.  Power can be out for a few hours or in some instances a week. It can occur during the dead of winter, a hurricane or even during the summer when temperatures…
We have had an AMAZING September here at Stepping Stones!  We passed out inspection with flying colors, are adding new children to our roster every week, and, perhaps most excitingly, after 7 months of hard work throughout the whole school Stepping Stones Nursery School and Daycare was awarded a Keystone Stars Star 2 status as of Thursday, September 17th!  Keystone Stars represents…