Friends and family of Kathryn Elizabeth (Betty) Murray gathered at Grace on January 23 at 4 p.m. to celebrate her life her love of music in a wide selection of hymns beloved to her. You may watch the video of the service here.
Please join us at Grace Lutheran Church, Hatfield PA on January 16, 2022  at 10:30 am by clicking on the picture below:
Click here to find the Grace Notes and Bulletin for this week.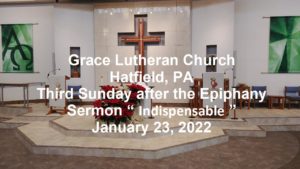 Our live Sunday service streaming now begins at 10:15 am, the prelude starting at 10:20 and the service starting at 10:30 with  Pastor Nancy Raabe as the minister
Click here to find the Grace Notes and Bulletin for this week, and here for the sermon texts.  Below are the recordings for some of our previous services
For older services, please search on YouTube for Grace Hatfield Services