Week 2: The Spiritual Gifts of Waiting
God gives us strength to live in the moment  where we find ourselves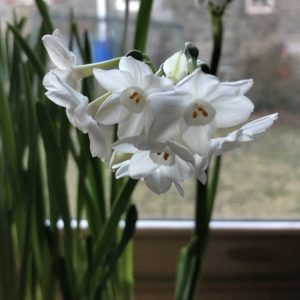 Promise
7 O Lord, where can I go from your spirit?
Or where can I flee from your presence?
8 If I ascend to heaven, you are there;
if I make my bed in Sheol, you are there.
9 If I take the wings of the morning
and settle at the farthest limits of the sea,
10 even there your hand shall lead me,
and your right hand shall hold me fast.
                                                Psalm 139
In her … autobiography…, poet Lucy Grealy describes her childhood cancer and her lifelong disfigurement….  When she was a child, she endured chemotherapy for 2 ½ years. While waiting to see her doctor, she found that the time would pass more quickly if she meandered down the corridor to the clinic's bathroom.  In the first stall, someone had scratched graffiti onto the door that said, "God is near."  In the second stall, the same person had scratched, "Be here now."  She writes in her memoir:
Be here now.  I didn't want to be here now.  My wanting was inconsequential.  I was here now, whether I liked it or not.  But something about this saying attracted me, either despite or because of its seeming simplicity, and 2 out of 3 times I went for door number two. [From Lucy Grealy, Autobiography of a Face (New York: Houghton Mifflin Company, 1994), 116. Cited in Holly W. Whitcomb, Seven Spiritual Gifts of Waiting (Minneapolis: Augsburg Books, 2005), 42.]
Is there something that makes it hard for you to be here now?
Amazing Grace
Amazing grace! how sweet the sound that saved a wretch like me!
I once was lost, but now am found; was blind, but now I see.
'Twas grace that taught my heart to fear, and grace my fears relieved;
how precious did that grace appear the hour I first believed!
Text:  John Newton, 1725-1807

Music:  W. Walker, Southern Harmony, 1835; arr. Edwin O. Excell, 1851-1921, alt.
Week 1: The Spiritual Gifts of Waiting: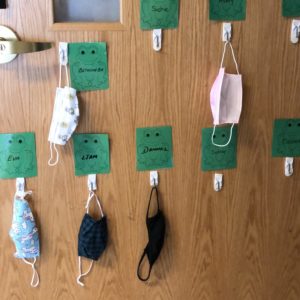 Masks of children napping at Stepping Stones 
27You are not made for the Sabbath, the Sabbath is made for you.
Mark 2
For those who have eyes to see:  this pandemic may have no borders, but it is not spread out evenly, either.  Some of us have much greater risks, better or worse insurance when we do get sick, lower or higher demands on us to be out among others, greater or lesser need to earn money right now, more or less access to a vaccine.
But come to the end of the day, and each of us needs to rest.
To the extent that we are able, God invites us to create a pattern of work and rest that restores our life.
Are you tired? 
How might you take a pause to rest this day? 
 What would you have to lay down to be able to deepen your rest?
I Heard the Voice of Jesus Say
I heard the voice of Jesus say, "Come unto me and rest.
Lay down, O weary one, lay down your head upon my breast."
I came to Jesus as I was, so weary, worn, and sad.
I found in him a resting place, and he has made me glad.
Text:  Horatio Bonar, 1808-1889
Music:  English Folk Tune