Week 6  The Spiritual Gifts of Waiting:
God gives us time to forgive
Detail, Grace's Crucifixion banner  Created by Joan Amundsen
34Then Jesus said, 'Father, forgive them; for they do not know what they are doing.'  Luke 23
Forgiveness is at the heart of Christian faith – Jesus taught about it often, spoke it in the most basic prayer that he taught us, and prayed for it for people unaware of needing it in these haunting words from the cross.  Yet most of us, I think, carry around within us some things we believe we cannot forgive, whether in ourselves or in someone else.  Some of us have given up trying.
The writer C. S. Lewis once noted in his journal: "Last week, while at prayer, I suddenly discovered – or felt as if I did – that I had really forgiven someone I have been trying to forgive for over thirty years.  Trying, and praying that I might."  [Noted in "Forgiveness" by L. Gregory Jones in Practicing our Faith by Dorothy C. Bass. (San Francisco, CA:  John Wiley & Sons, Inc, 1997), page 146.]
This Holy Week, as we ponder the sacrifice of Jesus on the cross, I invite you to find time in silence with what seems impossible to forgive – not with the assumption that it can be magically moved, even by God – but with the hope that you yourself might somehow be moved toward God as you stand with him.
Let us pray:  Thy will be done, O LORD, on earth, as it is in heaven.  Amen.
Blessed Assurance
Blessed assurance, Jesus is mine!  Oh, what a foretaste of glory divine!
Heir of salvation, purchase of God, born of his Spirit, washed in his blood.
Refrain
        This is my story, this is my song, praising my Savior, all the day long:
this is my story, this is my song, praising my Savior all the day long.
Text:  Fanny J. Crosby, 1820-1915

Music:  Phoebe P. Knapp, 1830-1908
Acknowledgements:
Photographs are the work of Pastor Janet Peterman, unless noted otherwise.
Feel free to share these meditations with others.  If you have received your meditation(s) in electronic form, you may share it/them with others for devotional use, as long as it carries this acknowledgement:
© 2021 by Pastor Janet Peterman and Minister of Music Kevin Freaney, Grace Lutheran Church, Hatfield, PA  Used with permission.
Week 5 The Spiritual Gifts of Waiting:
God gives us time to care for others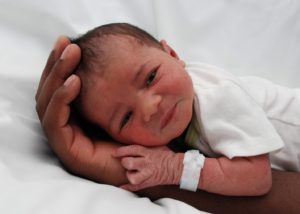 27The eternal God is your refuge,
and underneath are the everlasting arms…
Deuteronomy 33, New King James Version
Lord, make us instruments of your peace.
     Where there is hatred, let us sow love;
     where there is injury, pardon' where there is discord, union;
     where there is doubt, faith;
     where there is despair, hope;
     where there is darkness, light;
     where there is sadness, joy.
Grant that we may not so much seek
     to be consoled as to console;
     to be understood as to understand;
     to be loved as to love.
For it is in giving that we receive;
     it is in pardoning that we are pardoned;
     and it is in dying that we are born to eternal life.
Amen.
Shall We Gather at the River       
Shall we gather at the river, where bright angel feet have trod,
        with its crystal tide forever flowing by the throne of God?
Refrain:  Yes, we'll gather at the river, the beautiful, the beautiful river;
               gather with the saints at the river that flows by the throne of God.
Ere we reach the shining river,  lay we ev'ry burden down;
        grace our spirits will deliver, and provide a robe and crown.  Refrain
Text & Music:  Robert Lowry, 1826-1899

Photo Credit: http://www.seethatdad.com/wp-content/uploads/2013/02/newborn.jpg

Prayer attributed to St. Francis
Week 4: The Spiritual Gifts of Waiting:
God gives us time to grieve.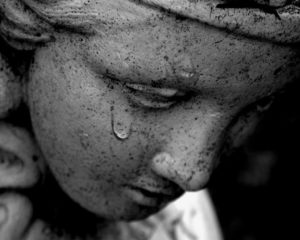 8O Most High, you have kept count of my tossings;  put my tears in your bottle.  Psalm 56
With the first Covid deaths last spring, with the earliest deaths of any kind in the pandemic, people said, we'll gather all together when it's over.  By now, the list is overwhelming, how much we've lost, how many we haven't been able memorialize with a meal, and hugs, and a church full of family and friends.
But still, we grieve.
And now our grief is cumulative, loved ones piled upon each other in our hearts and in our dreams.
Come to me, says Jesus, all you who are weary and heavy laden, and I will give you rest.  Take my yoke upon you  Matthew 11:28 – let me carry the load of grief with you.
Say the name(s) out loud.  For whom do you grieve this day?
Is your community grieving for someone dear to them, as well?
On My Heart Imprint Your Image
On my heart imprint your image,  blessed Jesus, king of grace, that life's troubles nor its pleasures ever may your work erase.
Let the clear inscription be:  Jesus, crucified for me, is my life, my hope's foundation,   all my glory and salvation!
Text: Thomas H. Kingo, 1634-1703; tr. Peer O. Strömme, 1856-1921, alt.

Music:  Johann B. König, 1691-1758
Photo credit: http://grmays.com/tears_of_sadness.jpg


Week 3: The Spiritual Gifts of Waiting:
God gives us time to remember God's past faithfulness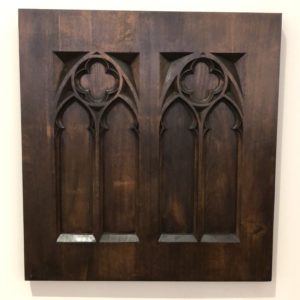 Grace's first sanctuary, pulpit wood
3Then Moses went up to God; the Lord called to him from the mountain, saying, 'Thus you shall say to the house of Jacob, and tell the Israelites: 4You have seen what I did to the Egyptians, and how I bore you on eagles' wings and brought you to myself.  Exodus 19
Remember!
When the Hebrew people reached Mount Sinai and Moses climbed the mountain to face God, God gave him words to speak to the people.  Those words became the basis of a yearly covenant renewal service, that the people might remember how God carried them out of slavery, provided for them in the wilderness, made them the people of the covenant, and promised to carry them in safety to a new land.
When we are stressed or in other kinds of difficulty, it is hard to remember that God is, that God is faithful, and that God will carry us through.
What do you remember most clearly about how God carried Grace through the time after the fire at the end of 2011?
Are there difficulties in your own life that God has carried you through?
My Faith Looks Up to Thee
My faith looks up to thee, thou Lamb of Calvary, Savior divine!
Now hear me while I pray, take all my guilt away, oh, let me from this day be wholly thine!
Text:  Ray Palmer, 1808-1887

Music:  Lowell Mason, 1892-1872
Week 2: The Spiritual Gifts of Waiting
God gives us strength to live in the moment  where we find ourselves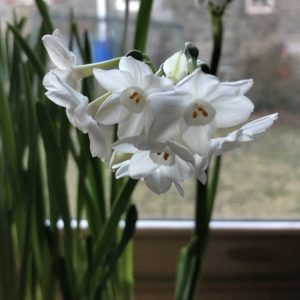 Promise
7 O Lord, where can I go from your spirit?
Or where can I flee from your presence?
8 If I ascend to heaven, you are there;
if I make my bed in Sheol, you are there.
9 If I take the wings of the morning
and settle at the farthest limits of the sea,
10 even there your hand shall lead me,
and your right hand shall hold me fast.
                                                Psalm 139
In her … autobiography…, poet Lucy Grealy describes her childhood cancer and her lifelong disfigurement….  When she was a child, she endured chemotherapy for 2 ½ years. While waiting to see her doctor, she found that the time would pass more quickly if she meandered down the corridor to the clinic's bathroom.  In the first stall, someone had scratched graffiti onto the door that said, "God is near."  In the second stall, the same person had scratched, "Be here now."  She writes in her memoir:
Be here now.  I didn't want to be here now.  My wanting was inconsequential.  I was here now, whether I liked it or not.  But something about this saying attracted me, either despite or because of its seeming simplicity, and 2 out of 3 times I went for door number two. [From Lucy Grealy, Autobiography of a Face (New York: Houghton Mifflin Company, 1994), 116. Cited in Holly W. Whitcomb, Seven Spiritual Gifts of Waiting (Minneapolis: Augsburg Books, 2005), 42.]
Is there something that makes it hard for you to be here now?
Amazing Grace
Amazing grace! how sweet the sound that saved a wretch like me!
I once was lost, but now am found; was blind, but now I see.
'Twas grace that taught my heart to fear, and grace my fears relieved;
how precious did that grace appear the hour I first believed!
Text:  John Newton, 1725-1807

Music:  W. Walker, Southern Harmony, 1835; arr. Edwin O. Excell, 1851-1921, alt.
Week 1: The Spiritual Gifts of Waiting: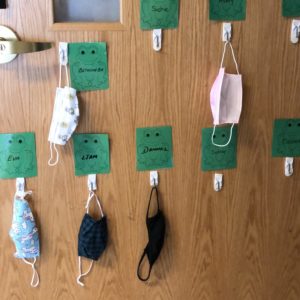 Masks of children napping at Stepping Stones 
27You are not made for the Sabbath, the Sabbath is made for you.
Mark 2
For those who have eyes to see:  this pandemic may have no borders, but it is not spread out evenly, either.  Some of us have much greater risks, better or worse insurance when we do get sick, lower or higher demands on us to be out among others, greater or lesser need to earn money right now, more or less access to a vaccine.
But come to the end of the day, and each of us needs to rest.
To the extent that we are able, God invites us to create a pattern of work and rest that restores our life.
Are you tired? 
How might you take a pause to rest this day? 
 What would you have to lay down to be able to deepen your rest?
I Heard the Voice of Jesus Say
I heard the voice of Jesus say, "Come unto me and rest.
Lay down, O weary one, lay down your head upon my breast."
I came to Jesus as I was, so weary, worn, and sad.
I found in him a resting place, and he has made me glad.
Text:  Horatio Bonar, 1808-1889
Music:  English Folk Tune