H3C is an organization that includes local church leaders, community helpers and food cupboard leaders. Its purpose is to identify and support needs in the Hatfield community. Supporting organizations include Grace, Emmanuel EC Church, Church of the Brethren, Bethany Bible Fellowship, St. Maria Goretti, St. Vincent de Paul, and Heidelberg UCC.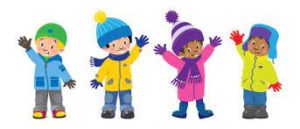 With winter on the way, some area families are unable to provide warm coats for their children. H3C is collecting new winter coats now! Bring them to Grace anytime. Share the warmth!
Coat Drive
H3C will be hosting the Hatfield Community Coat Drive again this year.  Covid has given us the opportunity to reorganize our process.  This year we will be collecting coats for the children of the two local food cupboards and preschools as needed during the months of September and October. We will need between 150 and 200 coats this year.  Pastor Clay Moyer of Church of the Brethren said there are a number of new babies since last year so we will need size 12 months and24 months/ 2T coats for both boys and girls.  We will also need the usual larger sizes for girls and boys especially sizes 16-18.
The plan is to collect the coats at Grace Lutheran until the end of October, and then they will be moved to Church of the Brethren for the distribution.  We will not be giving the coats out at Grace.
If you know of anyone who needs a child's coat, please let us know so that a coat can be provided.