HATFIELD COMMUNITY VBS 2017
Grace Lutheran, Heidelberg UCC, and Emmanuel EC, warmly invite you to THE FUN MAKER FACTORY!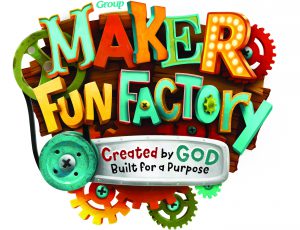 WHAT A FUN WEEK!
I don't even know where to begin!  Last week at VBS was so much fun for me, that even though I'm tired, I kind of miss it!
The kids sang together, played games together, ate together, prayed together.  And we all came away knowing tha God Created Us For a Purpose.  God MADE US, IS FOR US, IS ALWAYS WITH US, WILL ALWAYS LOVE US and MADE US EACH FOR A REASON! (WOW GOD!)
Take a look at this link for a slide show of all the fun we had!
VBS2017 – https://docs.google.com/presentation/d/e/2PACX-1vTZgih7B-l5Tm6riu_wfxZVZnkvJhN_ZTm3mnSiVFFHuK4Iv3N5y1EM4aXCBvblA7dCgXDnMVQJ5EAk/pub?start=false&loop=true&delayms=5000
We hope that you and your family had fun and that you will join us next year at the Hatfield Community VBS.
Sincerely,
The Hatfield Community VBS Team
Laura, Jaime, Sandra, Nicki, Lois, Pastor Marianne, Pastor Lutcher and Pastor Glenn